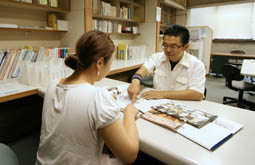 LIC International College was founded in 1977. So far we had over 4500 guaduates who are working all over the world.
q

In April 2005,we moved from shibuya to ueno. Ueno, located in taito-ku,the center aera of tokyo,assembled Japanese history, heritage, arts and other Japanese traditional cultural facilities.

Quite aera next to the main street.exellent facilities in the teaching building.